Publications and Events
To the Readers of jonathanrosenbaum.com:
This site has recently undergone a substantial change in design and a new URL, yielding in fact a new site, jonathanrosenbaum.net — hopefully an enhancement of and improvement on the old one, jonathanrosenbaum.com, with a more user-friendly search engine, many more links in the various indexes, and what I believe is a simpler and less cluttered design. I'm hosting this new site myself and owe its redesign to the exceptional generosity, talent, and resourcefulness of an Australian reader and web designer, Rowan McNaught, who was kind enough to offer me his services and his expertise.
As jonathanrosenbaum.com, this site was originally launched by the company Creative Loafing at the beginning of May 2008, largely through the initiatives of Patrick Mersinger and shortly after this now defunct company bought the Chicago Reader. I retired from the Reader on my 65th birthday, after serving for twenty years as their principal film reviewer. After the purchase of this weekly newspaper by the Chicago Sun-Times, the site continues to be housed on its web site without any active participation or much stated interest on the part of its new sponsor, which explains why a new URL and a fuller program of self-management seems desirable. To see the results of these deliberations, please go to jonathanrosenbaum.net — J.R. [10/07/13]
***
***
***
Note: Corrections for this section are welcome. Please contact me at jonathanrosenbaum at earthlink dot net.
An alphabetical index of all my long reviews for the Chicago Reader can be found here; for a chronological list of my posts and all my other pieces, go to About This Site, and for a chronological list of all my book reviews and longer pieces about literary subjects on this site, go here.
I retired from the Chicago Reader at the end of February 2008, so people wishing to contact me for professional reasons should email me at the above address, not at the Reader or at Facebook or at The Auteurs.
For a list of my books and links for ordering them on Amazon, go to this link. (Following the advice of Arindam Datta, a correspondent from West Bengal, India, here is another link that allows one to access an online version of my first book, Moving Places: A Life at the Movies, for free. Speaking of which, thanks to Catherine Grant's invaluable web site, you can access online 91 other film-related books, some of them essential works, for free by following this link.)
My first book as an editor, Rivette: Texts and Interviews (1977), was never reprinted and is difficult to come by nowadays, but virtually its entire contents (apart from the annotated filmography), as well as most of my articles about Jacques Rivette, are now available on an excellent web site, "Order of the Exile," devoted to Rivette.
---
Recent and Upcoming

1: Books
In 2010, the University of Chicago Press brought out my latest collection, Goodbye Cinema, Hello Cinephilia. I'm delighted to report that a Korean translation and edition is expected to come out in in the fall of 2013.
On April 17, 2013, John Lingan published a lengthy interview with and profile about me in the Los Angeles Review of Books.
There's a lengthy interview with me, largely about this book, featured in the December 2010 issue of the German film magazine Cargo.  (One can access the interview via this link, but not, alas, in readable form.) And I was delighted to discover [on May 23, 2011] that a translation into Indonesian of one short piece in this book — "In Defense of Spoilers," which started out as a blog post — has just appeared. More recently, in early June, an Italian translation of my 2007 essay "Film Writing on the Web: Some Personal Reflections," has appeared in the first issue of an ambitious new online film magazine, filmIdee.
***
My second most recent book, The Unquiet American: Transgressive Comedies from the U.S., published only in hardcover and designed to accompany a month-long retrospective at the Austrian Film Museum in Fall 2009 (see below), is also available from Amazon. And the Austrian Film Museum's Fritz Lang retrospective yielded a collection in German this year [2012] in the same series, edited by Astrid Johanna Ofner, that includes a translation of my 1976 Monthly Film Bulletin review of Spione, an expanded version of which can be accessed here.
The paperback edition of my 2004 collection Essential Cinema: On the Necessity of Film Canons (Johns Hopkins University Press), with a new Afterword that includes some additions to my list of 1000 favorite films, came out in 2008.
For over three years, Plot Ediciones in Spain has been announcing on their website a forthcoming Spanish edition of Essential Cinema, although they stopped responding to my emails about two years ago and their web site no longer appears to be functioning. In early 2010, however, I did have an exchange of emails with Lola Mayo, who was proofreading and revising the Spanish translation and assured me that this book would be coming out eventually — even though three years after that assurance, no publication date has been set so far.
Perhaps the least known of my books, Film: The Front Line 1983, is still in print, and 30 years after its publication, it has received a short, new online review.
A Spanish publisher, Errata Naturae Editores, has brought out a Spanish translation and edition of Movie Mutations: The Changing Face of World Cinephilia, a 2003 collection I coedited with Adrian Martin, on January 24, 2011 — with a new and lengthy Preface by Pere Portabella. (I finally received a copy of this book in mid-May of that year, thanks to the kindness of Portabella's assistant, Helena Gomà, who Fedexed me a copy; the greedy publisher, after taking the trouble to send me the photograph reproduced below, refused to send either Adrian or me a single one of those copies.)
Another relatively recent book of mine is Discovering Orson Welles (University of California Press, 2007). One of its pieces, an essay on F For Fake written for the 2005 Criterion DVD of the film, has also been reprinted (in English) in the 4th issue of the trilingual Italian online magazine La Furia Umana, which has a very sizable section devoted to Welles, including an excellent discussion of Welles' Heart of Darkness project by James Naremore; and in the same issue, among much else, there's also a provocative piece by Adrian Martin about "pulp poetry".  My last chapter, on Welles' Don Quixote, has appeared in a new Spanish collection, Espejos entre ficciones. El cine y El Quijote (2009), edited by Carlos F. Heredero and published by the Sociedad Estatal de Conmemoraciones Culturales. And the book's Appendix, "The Present State of the Welles Film Legacy," is included in the recent (2011) Russian translation of This is Orson Welles, which I edited.
Speaking of which, I wrote an essay about Welles for the Barnes and Noble Review. The same piece has turned up on Salon's web site, with a different title and headline.
At the end of July 2011, J. Hoberman and I attended the Era New Horizons Festival in Wrocław, Poland, where they brought out a Polish edition of our 1983 book, Midnight Movies, translated by our very generous and tireless host, Michał Oleszczyk. (Go here for a Polish sample.) I had a wonderful time there — it was my first visit to Poland, and I hope it won't be my last — and I saw a good many films I liked: especially Béla Tarr's The Turin Horse (no less than three times), which I wrote about for the September-October 2011 issue of Film Comment (the same piece has been translated into French for the Spring 2012 issue of Trafic and a Spanish translation has also appeared in the February 2012 issue of Caiman Cuadernos de Cine; also, go here for my brief contribution to a critical roundtable on Tarr at Indiewire), but also Asghar Farhadi's A Separation, André Téchiné's Impardonnables (also known as Unforgivable), Pip Chodorov's Free Radicals: A History of Experimental Film, and two programs of early shorts by Andrzej Munk. (Regarding midnight movies, a five-minute video interview with me for a Polish web site is available here; one can hear me discuss Eraserhead briefly with Michał, who translates my words into Polish, here, over silent images from the film, and a brief video discussion of Midnight Movies in English and Polish with Jim Hoberman and Michał — with superimposed images of Divine in Pink Flamingos! — can also be accessed. And, finally, here is an 11-minute stretch from a discussion of The Rocky Horror Picture Show cult by Jim, me, and Michał.
Casablanca Publishers has issued a Czech translation and edition of my book on Dead Man, for which I've written a new Foreword. And a French edition translated by Justine Malle (daughter of Louis Malle) was published by by Les Éditions de la Transparence in 2005; I've also recently discovered that an unauthorized Iranian translation in Farsi appeared in 2006.
It's been almost a year since La Mirada Americana. Cincuenta Años de Film Comment, a Spanish collection edited and translated by Manu Yáñez Murillo with three pieces of mine ("Guilty by Suspicion," an early Paris Journal about Playtime, and a dialogue with J. Hoberman about midnight movies), came out, and in Mexico City at FICUNAM (late February 2013), Manu was kind enough to give a copy. (Film Comment, which was supposed to forward me a copy, couldn't be bothered.)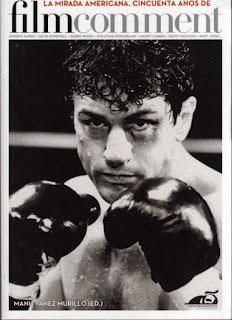 At long last, Pere Portabella's complete works are finally being issued on DVD — in Spain by Intermedio, to be followed by a French edition from Blaqout. My article "Portabella and Continuity," commissioned a few years ago by Portabella himself (originally for this box set, but now for a book to be published in Fall 2013), appears in the weekend (March 8-9) edition of El mundo, in its section El cultural, translated into Spanish.
***
2: Other Publications
For the March-April 2013 issue of Film Comment, I wrote an article about the beautiful films of André Delvaux, whose major works have recently been becoming available in fine, trilingual Belgian DVD editions. (Below is a still from my favorite Delvaux feature, Rendezvous at Bray). After this article got bumped first to the May-June issue, and then to July-August, I decided to post it on this site.
Alison Castle, the editor of The Stanley Kubrick Archives for the German publisher Taschen, is working on a similar large-scale compendium about Jacques Tati, and I've been commissioned to contribute half a dozen essays, one on each of the Tati features, and a seventh essay about working with Tati. Plenty to keep me busy through both the remainder of the winter and Spring 2013, and I'm excited about being able to acquire more information about the work thanks to Alison's access to the archives….Meanwhile, two of my previous pieces about Tati, "The Death of Hulot" and "The Color of Paradise," have just appeared in Farsi in a sumptuous new Iranian film magazine, Filmkaneh.
Gary Groth of Fantagraphics Books commissioned me to write an Introduction to the first volume of Charles Schulz's Sunday color strips of Peanuts, covering the early 1950s, which will appear in November 2013.
For the venerable Australian online magazine Screening the Past, I've written a short review of an ambitious new book, The British Film Institute, the government and film culture, 1933-2000, coedited by Geoffrey Nowell-Smith and Christopher Dupin. I'm also planning to write about Chunhyang for an upcoming book about Im Kwon Taek being prepared for the 2013 Busan International Film Festival, and have recently expanded a brief post of mine about Helsinki, Forever for an upcoming volume being assembled to celebrate Peter von Bagh's 70th birthday. Meanwhile, I'm also trying to synthesize several of my previous articles about Joe Dante for an upcoming anthology being coedited by Gabe Klinger for the Austrian Filmmuseum and Columbia University Press.
The Viennale commissioned a long article by from about Jerry Lewis for its upcoming retrospective in Fall 2013, in exchange for being able to attend the Viennale this year, where I'll also be serving on a panel discussion about Lewis the same day that I arrive there. They'll be publishing my essay only in German, but I plan the make the original English version available online around the same time.
For the Cohen Brothers Collection's digital release of Jean-Pierre Melville's Two Men in Manhattan, Ignatiy Vishnevetsky and I taped a dialogue about the film.
Translations of two essays of mine about films by Howard Hawks, on The Big Sleep and Gentlemen Prefer Blondes, have appeared in an extensive retrospective catalogue put together by its curator, Rafael Ciccarini, in Belo Horizonte, Brazil, Howard Hawks Integral.
In 2012 I wrote an article called "Confessions of a Cinephile" for the sumptuous Mexican magazine La Tempestad, which published it in Spanish translation; in February 2013 they also published it online, here. Later this spring, I'll post it in English on this site. But meanwhile, let me warn all potential contributors that the people who publish this magazine are liars; in a style closely resembling that of the sleazebag who gets free construction labor out of Humphrey Bogart and Tim Holt in The Treasure of the Sierra Madre, they promise to pay modest fees and then pay nothing, meanwhile assuring everyone that the check is on the way.
My lists of "best" choices for 2012 — in The Village Voice, Sight and Sound (see p. 61 for films, here for DVDs), and Indiewire (page down from here) — are up now, as is my contribution to the annual round-up at Moving Image Source, which is in some ways more about literature than about film.
I recorded an audio commentary for the Blu-Ray and DVD of The Turin Horse released by Cinema Guild. I've also written an essay about Orson Welles' The Trial for the Studiocanal Blu-Ray of this film (out in separate editions in the U.K., France, and Germany), and I've written a new essay about Satantango (the novel and the film) in relation to William Faulkner, for a special issue of Music & Literature devoted to Krasznahorkai and Tarr (just out, in April 2013 — although I've also posted my original version of the text on this site), plus a short essay for the November-December Film Comment about some recent book-length analyses of single films that, I'm happy to report, is now available online. I've also recently published an article about "Rivette in Context," a program I put together in London and New York, respectively, in the late 1970s, in a new, Spanish-based and online academic journal, Cinema Comparati/ve Cinema, which appeared in late 2012 or early 2013; you can access it online here.
My review of the anthology Hollywood's Chosen People: The Jewish Experience in American Cinema ran in the Jewish Forward on October 5, 2012, and my review of Spielberg's Lincoln appeared on November 9. (A German translation of the latter will be appearing in December 2012 in the magazine Cargo.) A more recent piece for the Forward is about Michael Roemer and two of his films, Nothing But a Man and The Plot Against Harry; my next will be reviews of Eric A. Goldman's book The American Jewish Story Through Cinema and a novel by Jay Neugeboren, The American Sun & Wind Moving Picture Company.
***
My 1981 essay "Looking for Nick Ray," published elsewhere on this web site in its original and unmeddled-with form, will be reprinted in a forthcoming collection edited by Steve Rybin and Will Scheibel, LONELY PLACES, DANGEROUS GROUND: NICHOLAS RAY IN AMERICAN CINEMA, to be published by the SUNY Press.
In the spring of 2010, just as I was about to fly to Berlin to participate in a conference called "Cinema without Walls — Borderlands of Film," volcanic ash forced a cancellation of my flight. Almost two years later, a version of my planned presentation, "End or Beginning: The New Cinephilia," adapting material from the introduction to Goodbye Cinema, Hello Cinephilia and an essay called "Film Writing on the Internet" that's included in the same collection, has appeared in an anthology in English coedited by Gertrud Koch, Volker Pantenburg, and Simon Rothoehler, Screen Dynamics: Mapping the Borders of Cinema, published by the Austrian Film Museum.
For the online, bilingual La Furia Umana, I've written a short piece to introduce an extensive Joe Dante dossier in its 11th issue (January-March) and recently discussed Robert Bresson and Godard's Film Socialisme with Kent Jones and Eric Kohn for Indiewire. I've also written an obituary of Gilbert Adair for the March-April 2012 Film Comment; the links included there can be supplemented by some of Gilbert's old pieces for Sight and Sound and Monthly Film Bulletin that have also been published online.
Another recent writing assignment: an essay about Ermanno Olmi for a collection published by Guimarães 2012 European Capital of Culture in separate English and Italian editions, A Man Named Ermanno: Olmi's Cinema and Works. A French translation will appear in the Fall 2013 issue of Trafic.
Shorter versions of my Chicago Reader reviews of Kiarostami's Homework, Taste of Cherry, and The Wind Will Carry Us are included in Parviz Jahed's Directory of World Cinema: Iran (Bristol/Chicago: Intellect, 2012), although unfortunately all three are misattributed to the wrong sources: the first to this web site (which merely reprints it from the Chicago Reader), the latter two to an imaginary publication called the Chicago Review (instead of the Chicago Reader).
For Slate, David Haglund has quizzed me and a few other writers (Salman Rushdie, Francine Prose, and Mark Athitakis) about which works by William Faulkner should and shouldn't be adapted into films.
I was commissioned to write a short essay about Raul Ruiz's late (and great) TV miniseries Mysteries of Lisbon for the U.S. Blu-Ray, a three-disc set which Music Box Films released in early February 2012, and I expanded this piece for a book about Ruiz brought out by the Spanish Cinematheque. Meanwhile, for Fandor, Kevin Lee illustrated a short piece of mine about Ruiz's late camera movements with a sequence from That Day (2003).
I've published 15 articles on the web site Moving Image Source since it was launched in June 2008 (a month after this web site started), including one about Allan Sekula and Noël Burch's The Forgotten Space that has already been reprinted in Spanish and Canadian publications devoted to this film, one about some innovative new DVD editions of early Russian film classics, and another that's a comparison of Playtime and 2001: A Space Odyssey, to coincide with screenings of both at the Toronto Lightbox. (I've also made contributions to this site's Moments of 2009 and Moments of 2010, which are respectively about Peter von Bagh's Helsinki, Forever and Peter Thompson's Lowlands — two favorite films of mine, both by friends; in Moments of 2011, I briefly discuss Azazel Jacobs' Terri.) Speaking of Playtime, my extended comparison of that film with Jia Zhangke's The World, reprinted in Goodbye Cinema, Hello Cinema, has been translated into Spanish in the March 2011 issue of Revista de Occidente….My latest article for Moving Image Source focuses on Otto Preminger's Skidoo, which has recently been released on a letterboxed DVD.
I tried to interrelate two very personal touchstones of mine, William Faulkner's Light in August (1932) and Carl Dreyer's Gertrud (1964), over the first four paragraphs of my first book, and more recently I've tried to elaborate a little on this connection for a post on Criterion's The Current. (The first part of Kevin B. Lee's two-part 2008 video featuring my comparison of this film with John Ford's The Sun Shines Bright can be accessed here. Alternately, you can watch both parts on YouTube, here and here.)
Two of my essays about Nicholas Ray have recently been translated for book-length collections about him — "Circle of Pain" (1973) for one in Brazil and "Looking for Nick Ray" (1981), an upgraded and extended version of which will appear on this site, for one in Spain.
I wrote an overview article about Nagisa Oshima, in conjunction with a retrospective at the Walter Reade cinema in New York, for the October 2008 issue of Artforum. (It's also available on this site, with illustrations more closely keyed to the text.) I've also written a short piece about Carl Dreyer for their web site (in conjunction with a Dreyer retrospective at the Brooklyn Academy of Music), another short piece about Jim McBride's early films for a retrospective held at Anthology Film Archives, a third short piece on Terry Gilliam's The Imaginarium of Dr. Parnassus, and a fourth (just up) comparing Shoah and Night and Fog.
The online La Furia Umana has recently reprinted my 1974 review of Monte Hellman's Cockfighter, which is also available with a few illustrations here; a paper version of their book on Hellman, which will include this review, is in the works.
For a short article of mine about Feuillade's Fantômas commissioned by a new company called Fandor, go here. A second piece I did for Fandor — about the 1973 film of The Iceman Cometh directed by John Frankenheimer and some of the play's personal and/or autobiographical relevance for Eugene O'Neill — can be found here.
I've posted a new article for DVD Beaver, a site I've written for many times in the past, about some of my favorite 1930s films. (For links to my dozen articles on this site, go here.)
A 3500-word article of mine about watching Kiarostami's recent films at home on DVDs (rather than in theaters) is available here. February 21, 2011: Luciana Borrini has just translated this essay into Spanish, which is available here.
***
September 29, 2009: Less than two hours before I left home for a ten-day trip to Europe (Paris and Vienna), an "opinion editor" at the New York Times, apparently spurred by my recent (and very brief) post on the subject, asked me to write 300 words or less about some of the issues rasied by Roman Polanski's recent arrest in Switzerland for a Times blog, "Room for Debate". This was posted around the same time I was crossing the Atlantic. And as a belated spinoff of sorts, I was asked by Der Standard, a leading Vienna newspaper, to write something roughly three times longer about this topic in relation to contemporary public discourse in the U.S., during my final day in Vienna (October 9). This never appeared, however, so I went ahead and posted the article here.
On March 4, 2010, "Room for Debate" asked me, "Do the Oscars Undermine Artistry? And Salon asked me for my quick reactions after the awards ceremony.
And a little over a year later, on March 23, 2011, "Room for Debate" asked me to comment on the death of Elizabeth Taylor and "Is it harder to be a celebrity now?"
Mehrnaz Saeed-Vafa and I published a dialogue about Kiarostami's Shirin in the Chicago Reader (October 22, 2009). I've reposted it here, and a translation into Farsi has recently appeared in Film Monthly. (Note: I also wrote the liner notes for the Cinema Guild's DVD of this film; these notes can be accessed here, and I've heard that they have also been translated into Farsi for the same issue of Film Monthly.)
For the Chicago Reader's 40th anniversary, October 13 [2011] issue, I was commissioned to write a commentary on what was probably my most popular article during my 20 years there, "List-o-mania, Or How I Stopped Worrying and Learned to Love American Movies," which ran originally in their June 25, 1998 issue before a slightly polished version became a chapter in my book Movie Wars, and an excerpt runs in the paper version of this anniversary issue. (Directly below, incidentally, is the jacket of the English edition of Movie Wars, which I much prefer to the American cover.) Normally, I'd simply link to this site's complete version of the piece, which has added illustrations, but now that the Reader has provided links to capsule reviews of almost all the films on both my list and the AFI's, along with several others in the article proper in their own version — well over 200 links in all, and omitting only Harry d'Abbadie d'Arrast's wonderful 1930 feature Laughter, which has apparently never shown in Chicago even once during the Reader's 40 years of existence — I have to link to theirs as well. After spot-checking, I've discovered that not all of these links work — see Trouble in Paradise, for instance (my link here works, but not theirs). But even so, somebody there clearly put in a lot of work on this.
For its second issue, the online Cine-Files queried me briefly (along with several colleagues) about the French New Wave.
David Kalat and I did a joint audio commentary for the Masters of Cinema DVD and Blu-Ray releases of the newly restored 150-minute version of Metropolis. I was delighted to discover that this was just voted the best audio commentary of the year over at DVD Beaver.  (On the same page are my selections of the best DVDs and Blu-Rays of 2010.)
For its huge, 308-page 10th issue, the online and profusely illustrated Spanish magazine SHANGRI-LA has devoted over a third of its first pages to the late Edward Yang, including a translation of my 1997 essay about him, "Exiles in Modernity" (pp. 25-35).
Ehsan Khoshbakht's online Notes on Cinematograph has posted a translation of my essay "Goodbye Cinema, Hello Cinephila" in Farsi that has recently been reprinted in his regular column in 24 Monthly. (His jazz blog, incidentally, is well worth checking out.) And he recently emailed me that "Your Letter from Chicago has been translated into Farsi and published in the 410th issue of Film Monthly." It turns out that the translation was done by Saeed Khamoush — the same person who compiled and translated into Farsi an unauthorized collection of 13 of my Chicago Reader pieces that was brought out by Mehraz, a publisher in Tehran, in 2001. (For those who might be curious, these 13 pieces were reviews of Boys Don't Cry & The Straight Story, Star Wars, Episode I: The Phantom Menace & Trekkies, Gabbeh & She's So Lovely, The Decalogue & Fargo, M, The Truman Show, American Beauty, Secrets and Lies, The Apostle & Kundun, Mars Attacks!, Breaking the Waves, Dead Man, and Eyes Wide Shut, in that order.) 2012: Ehsan has also just posted his translation of a short text about Alain Resnais that he asked me to write, available in English here….More recently (December 15, 2012), Ehsan has discovered that my Monthly Film Bulletin review of Black and Tan was plagiarized in a book about Duke Ellington and mangled a bit in the process, and he's written about this on his website. On February 25, 2013, he published an index of my writing about jazz on this web site.
Salon asked me to write briefly about my favorite film of the 2000s, for the launch of their film blog in early December 2009. Guess which film I picked. In March, for its June 2009 issue, Sight and Sound polled me and several other critics about their favorite film books (a feature available online here), and in April, Miradas de Cine polled me and several others about the films of the past decade (best and most overrated) for their 97th issue. (Last year, they similarly took a poll about films of the 1930s.)
On Film Festivals, an anthology edited by Richard Porton for Wallflower Press's Dekalog series, includes a long autobiographical piece by me in it.
A collection issued by the Centipede Press, Studies in the Horror Film: Night of the Living Dead, includes a reprint of the chapter on George Romero in Midnight Movies, the book I wrote with J. Hoberman.
cem mil cigarros: os filmes de Pedro Costa (Lisboa: Orfeu Negro, 2009) is a beautifully produced hardcover 337-page Portuguese collection edited by Ricardo Matos Cabo that I've contributed an article to, about Casa de Lava. I eagerly await an English-language edition, which I'm told is at least theoretically in the works. Meanwhile, I've written an essay on Casa de Lava for Second Run Features in the U.K. (which is finally appearing in fall 2012); this has recently also appeared in French, in the spring 2011 issue of Trafic (no. 77).
My lengthy article about Manoel de Oliveira for the July-August 2008 issue of Film Comment is available here. And my 1981 essay about his Doomed Love, reprinted in my 1995 collection Placing Movies, was recently translated into Portuguese and also reprinted again in English in a 2008 exhibition catalogue published by the Museu Serralves.
My thanks to Michael Guillen in Berkeley for doing such a great job of referencing and cross-indexing much of my writing about Jacques Tati, with a good many quotes and links (many of them back to this site).
I've contributed many pieces to Chris Fujiwara's Defining Moments in Movies and a couple to Dennis Lim's The Village Voice Film Guide (both 2007), and also contributed a chapter on "Wonder" ("Kid Stuff") to another collection, Time Out 1000 Films to Change Your Life (2006). I'm especially proud to be associated with the Fujiwara collection, one of the very best mainstream books about movies that I know, and am delighted to have recently received a copy of the 2009 Italian edition, Cinema: 1000 Momenti Fondamentali (see above).
For Sight and Sound's Lost & Found column, I've written about Françoise Romand's innovative and highly unorthodox English-language documentary Mix-up (1985); it's in their October 2010 issue and has more recently become available online.
I expanded my 1993 essay about Luis Buñuel's The Young One for the Australian DVD of this film, released on the Madman label (and reprinted here, on this site). For the same label, I've written a new essay about Orson Welles' Confidential Report, and I've done an essay for their release of Will Success Spoil Rock Hunter?
An ancient piece of mine, now called "Elia Kazan, Seen from 1973″ and appended with a new preface, is included in a new critical collection edited by Lisa Dombrowski for Wesleyan University Press, Elia Kazan Revisited.
My short review of Saul Austerlitz's Another Fine Mess: A History of American Film Comedy is in the November-December 2010 Film Comment, and in the January-February 2011 issue, along with a couple of capsule reviews, I have 1000 words on the unreleased musical version of James L. Brooks' I'll Do Anything. Last year, I reviewed Kazan on Directing in their July-August 2009 issue, and I also wrote a short review of Britton on Film: The Complete Film Criticism of Andrew Britton for their March-April 2009 issue.
One of my most interesting and challenging recent assignments has been to write the Introduction for the Chinese translation and Chinese edition of James Naremore's More Than Night: Film Noir in its Contexts, my favorite book about film noir (and reportedly the first Chinese book about noir to be appearing). This introduction has been posted here.
Whenever Stop Smiling releases its final issue — a mammoth production devoted to Stanley Kubrick, also slated to come out eventually as a book– this will contain an exchange between Naremore and myself about Kubrick's early films, as well as additional bits by me about Eyes Wide Shut and Naremore's book On Kubrick.
The Oxford American, which discussed my work in the editorial of its June 2009 issue (not online), has also posted an interview with me on its web site.
I've written something short and personal about Eisenstein's Ivan the Terrible for The Current, an online blog maintained by Criterion, which has been posted along with a clip.
For a Criterion DVD, I've contributed a joint audio commentary to Kiarostami's Close-up with Mehrnaz Saeed-Vafa. I've also written an essay for the Criterion DVD of Terry Zwigoff's Crumb that they've now made available on their website, here. For a box set devoted to Rossellini's "war trilogy," I've written a short essay about Germany Year Zero that Criterion has also published here.
For a British Film Institute DVD, I've written a short essay on Sally Potter's always-neglected and splendid The Gold Diggers (1983), a feminist avant-garde musical which features, by Babette Mangolte's own account, her best black and white cinematography. And, for a BFI DVD and Blu-Ray dual format edition of Yasujiro Ozu's An Autumn Afternoon and A Hen in the Wind, I've written an essay about the latter and lesser-known film which can be accessed here.
I've written liner notes for the DVDs of Jia Zhangke's 24 City, Abbas Kiarostami's Shirin, and José Luis Guerín's In the City of Sylvia and Some Photos in the City of Sylvia,  all releases of The Cinema Guild.
I was recently commissioned to write a short essay about a film by the French experimental filmmaker Marylène Negro, for a book entitled Sept Mondes which includes seven essays about her work; I selected a short landscape film of hers called Seeland, and my friend Nicole Brenez, another contributor, translated my text into French.
I was also commissioned by Austrian experimental filmmaker Peter Tscherkassky to write 3000 words about another Austrian experimental filmmaker, Lisl Ponger (see above), for Film Unframed: A History of Austrian Avant-Garde Cinema (see below), a very handsome and beautifully produced book.
The Viennale, which had a Chantal Akerman retrospective with the Austrian Film Museum in Fall 2011, commissioned an extended essay by me about her work, which appeared in German only; the online magazine Lola has published it in English in its second issue, along with substantial items by Akerman herself, Nicole Brenez, and Dana Linssen, and the Bobigny Festival "Théâtres au cinéma" will publish a French translation in a collection that will come out in April 2014.
I contributed a new, short essay about Sara Driver's films to the Thessaloniki International Film Festival in November 2011, which presented a Driver retrospective; the same piece is included in a nicely produced and compact (two-disc) Sara Driver DVD box set — along with a 15-minute video interview that I did with Sara about When Pigs Fly in 2004 — brought out by the Canadian label Films We Like.
The Jeonju International Film Festival in South Korea published two short pieces of mine about early films by Pere Portabella in a bilingual monograph about that filmmaker (2009), and I've contributed an extended piece about Pedro Costa for their subsequent bilingual monograph about that filmmaker, published in spring 2010. More recently, Sight and Sound commissioned a brief piece about Portabella for a retrospective at the Tate Museum in London. (I believe this was for their June 2009 issue.)
I reviewed the disappointing Thomas Pynchon novel, Inherent Vice, for Slate. And I have another recent piece in Slate about some of the mystifications of DVD packaging in relation to film history.
I've written a new essay about Roberto Rossellini's India Matri Buhmi for an extremely handsome, beautifully illustrated new collection just published in India by The Shoestring Publisher, Outsider Films on India, edited by Shanay Jhaveri. (You can order it from Amazon in the U.K. by following the above link.) It also includes essays by many valued friends and colleagues, including Erika Balsom (on Malle's Phantom India), Tom Gunning (on Lang's two Indian films), Priya Jaikumar (discussing Renoir's The River with Jhaveri), Jhaveri himself (on Merchant-Ivory's Shakespeare Wallah), James Quandt (on Corneau's Nocturne Indien), Adrian Martin (on Duras' India Song), Kaunteya Shah (on Pasolini's Notes for a Film on India), Shah and Jhaveri (on Tanner's Une Ville à Chandigarh), and Leslie Ann Thornton and Tom Zummer (two more theoretical pieces), and I strongly recommend it.
Starting with the fall 2008 issue of Film Quarterly, I began writing for that magazine with some regularity as a "writer-at-large". In the Fall 2008 issue, I had an essay about Adam Curtis; in the Winter 2008-2009 issue, I had an article about two films by John Gianvito, The Mad Songs of Fernanda Hussein and Profit Motive and the Whispering Wind (also posted here); I had a short piece about sexism in the early French New Wave in the Spring 2009 issue, and an essay about and dialogue with Chicago filmmaker Peter Thompson in the Fall 2009 issue. For the summer 2010 issue, I did some coverage of South by Southwest, available here.
I've written a short essay about Jacques Tati's Parade — his last film, and his least known — for the BFI release of that film on DVD in the U.K.
I've written a polemical article about the critical reputation of The Godfather and its first sequel (and some of the ideological ramifications of this) for the Dutch magazine De Filmkrant's special English-language newspaper that appeared at the Rotterdam International Film Festival in late January 2009. The editor, Dana Linssen, kindly granted me permission to post it post here. And I have an article in their follow-up, 2010 issue about Pedro Costa's Ne Change Rien.
The web site Close-up has reprinted my essay "Sign and Cinema" from the Second Run DVD release of In the Land of the Deaf, where it serves as liner notes.
I've also written a short piece, "History and Egotism: Me and Orson Welles", for the FIPRESCI web site. And on the same site, I have pieces in the first and third issues of their magazine Undercurrent.
Among the magazine symposiums I've participated in lately are one on cult films in Cineaste, where my responses are fairly terse, and another one on cinephilia for Framework 50 (1/2, 2009).
My essay on John Ford's The Sun Shines Bright, included in my new collection, was translated into Portuguese for a handsome, hefty, new Brazilian collection, called simply John Ford, that was edited by Ruy Gardnier.
My review of the recent critical biographies of Otto Preminger by Chris Fujiwara and Foster Hirsch was in their summer 2008 issue of Cineaste. (It isn't available online.) My response to a symposium on Internet film criticism is in their fall 2008 issue. My review of Chris Fujniwara's Jerry Lewis (University of Illinois Press) appeared in their Spring 2010 issue, and my review of Tony Pipolo's Robert Bresson: A Passion For Film (Oxford University Press) has appeared in their summer 2010 issue, along with a short essay, "DVDs: A New Form of Collective Cinephilia". 
Meanwhile, for the second edition of James Quandt's mammoth anthology of critical pieces about Bresson, due out in early February 2012, which is reprinting an essay of mine about Affaires Publiques (Bresson's first and most neglected film) from Film Comment, I participated in a lengthy email symposium that he conducted, along with Kent Jones, Dan Morgan, Brian Edward Price, and Nicole Brenez. Meanwhile, the Centro Cultural São Paulo has translated my essay on Bresson's Lancelot du lac for a retrospective catalog devoted to Bresson.
There's a revised second edition now (2009) of Frank Films: The Film and Video Work of Robert Frank, a 2003 collection edited by Brigitta Bürger-Utzer and Stefan Grissemann; both editions include my consideration of my own favorite Frank film, C'est vrai! (One Hour).
"Global Discoveries on DVD" — my column in Cinema Scope, which started in their 14th issue (Spring 2003), and has continued ever since (apart from a brief hiatus during my year of teaching in Richmond, Virginia) — is available online, at least from issues #40 to #55.  You can also access my short take on Azazel Jacobs for that magazine, as well as my review of Rafi Pitts' The Hunter.
Meanwhile, I continue to write a bimonthly column, "En Movimiento," for Cahiers du Cinéma España, which started with their first issue in May 2007 — although starting in January 2012, thanks to the continuing auto-destruction of the original Cahiers du Cinéma, the Spanish magazine has had a new name — Caiman Cuadernos de Cine, the latter portion of which is Spanish for Cahiers du Cinéma – and a new format; my column, however, remains the same. And starting on May 3, 2013, I'm happy to say that all or practically all of this magazine's issues will become available online.
Annett Busch's Missing Image web site has posted the original, unedited draft of my review of Serge Daney's last two collections, volumes 1 and 2 of La Maison Cinéma et le monde, commissioned by New Left Review for their July/August 2005 issue. You can alternately purchase the edited and somewhat expanded version of this for three quid at their web site.
***
Upcoming and Recent Events
I was on the jury of the 23rd Message to Man Film Festival in St. Petersburg from September 21 through 28 — a jury headed by Mira Nair (whom I'm standing directly behind, at the opening night ceremony). The other photo comes from one of our wonderful lunches. I also gave a two-hour "master class" in film criticism at the University of St. Petersburg that was really a lively dialogue with about fifty students.
I'm delighted that Béla Tarr invited me to work at his recently launched Filmfactory (which he prefers to to call a "workshop" rather than a school, with sixteen filmmaking "factory workers" from around the world) in Sarajevo — from May 20 through 31, 2013 — with a focus on American independent cinema, splitting each day during the first part of that stretch with Carlos Reygadas, and then taking over the morning and afternoon sessions the following week before sticking around the following Monday and Tuesday to attend the first two of Tilda Swinton's remarkable lectures (after attending both a screening of Satantango on Saturday and a four-and-a-half-hour lecture by Béla about it on Sunday). FilmFactory's three-year program opened in mid-February 2013….I've written an account of my experiences there for Sight and Sound's web site, and I've expanded this account by about 50% for future issues of Trafic (in French) and the September 2013 issue of Cargo (in German). (Eventually, I'll publish this longer version on this site as well.) And I'm delighted to report that I'll be returning to FilmFactory to teach a history of world cinema to M.A. students for two more weeks in early November, just after I attend the Viennale.
The first of the above photos comes from a recent field trip many of us took to Tito's Bunker Konjic, about an hour's drive away; the second was taken on June 4, shortly before I flew back to Chicago.
Once again, I served on the DVD jury at Il Cinema Retrovato in Bologna, held in 2013 from June 29 through July 6. I didn't discover until I arrived there that I was scheduled to give an hour-long "Lesson in Cinema" talk on July 5; fortunately, the festival's artistic director, Peter von Bagh, offered to interview me, and the results have recently been posted here. Last year, I participated in a panel there with Girish Shambu and Miguel Marias on cinephilia (a video of which can be seen here), and, substituting for artistic director Peter von Bagh (who was regrettably absent that year due to illness), introduced a screening of TWILIGHT'S LAST GLEAMING. Below is a photo taken by Ehsan Khoshbakht of the latter event, and below that is an earlier photo taken by me of one of the many enjoyable Bologna lunches, this one with Ehsan, Dave Kehr, Jackie Raynal, and Meredith Brody. During the same festival, I was briefly interviewed by Sam Roggen for a new Belgian online magazine.
***
Thanks to a good many friends and colleagues both in Mexico City (at FICUNAM) and on the blogosphere (at Fandor, here, here, and here (and go here for a Romanian translation of the latter); on Take the "A" Train, here and here; and on Facebook, Twitter, and Indiewire), my 70th birthday was the happiest one I've ever had. (The first of the above links is to a twelve-and-a-half-minute video directed by Ignatiy Vishnevetsky and produced by Kevin B. Lee.)
More specifically, I taught a nine-hour seminar on film criticism and history in a workshop being held during FICUNAM, February 25-27, 2013 and participated in something called a critic's week at the same festival over the same three days; I'm delighted that two of my best friends (and fellow collaborators on our book Movie Mutations), Adrian Martin and Nicole Brenez, were also there. The photograph below, where I'm flanked by Gabe Klinger and FICUNAM's director Eva Sangiorgi, and both of those above were taken at a surprise birthday party held for me.
On April 6, 2013 I lectured on Stroheim's Greed at the St. Louis Humanities Festival. (To help promote this, Jim Tudor posted an interview with me here, and the Greed event itself has been preserved in an excellent video, about an hour long, with added illustrations.) And at the first annual Dick Wolf Penn Cinema Studies Conference, in Philadelphia on April 12, 2013, called "The End of Cinema and the Future of Cinema Studies," I gave a presentation called "The Future of Cinema and the End of Cinema Studies"….I was back in Philadelphia on September 6 to introduce a screening of Celine and Julie Go Boating at International House. 
As part of a tribute to the late (and great) German film critic Frieda Grafe, I wrote an essay about Billy Wilder's Avanti!, one of her favorite films, and introduced a screening of it at the Arsenal in Berlin on April 28. And my essay on Lubitsch and Wilder was recently translated into Portuguese for a Brazilian Wilder retrospective held in Sao Paulo.
I taught a three-day lecture course on Charlie Chaplin, concentrating basically on the features, in Belo Horizonte, Brazil (my first trip to that country) from August 16 through 18. That same month, I was interviewed by the Portuguese web site À Pala de Walsh, and an English version of their interview can be accessed here. Mid-December 2012: This interview was just awarded a prize in Lisbon for best interview in the 3rd Annual TCN Blog Awards.
After a few years' absence in both cases, I attended both the Toronto film festival (September 6-16) and the Viennale (October 28 — November 7) in the fall of 2012, the latter as president of the FIPRESCI jury. (We gave our prize to Margaret, and a brief article of mine about it is now on FIPRESCI's web site, along with a briefer account of the festival itself.) At the former, I introduced a screening of a restored version of Ritwik Ghatak's The Cloud-Capped Star on September 10, and I've written some coverage of the latter for Film Comment, both for its web site (posted on November 17) and for the January-February 2013 issue, which also includes my article about Mark Cousins' extended series The Story of Film.
From September 19 through November 14, I taught World Cinema of the 1960s on Wednesday evenings at the University of Chicago's Graham School of Liberal and Professional Studies.
A few more Chicago gigs in 2012: On October 4, 6 PM, I introduced a screening of two films by Peter Thompson at Columbia College, and on October 7, 5 PM, I introduced a screening of Vera Chytilova's DAISIES at the Siskel Film Center and led a discussion after the screening.  I did the same thing at an 8:30 PM screening of YOU GOT TO MOVE, Lucy Massie Phenix and Veronica Selver's documentary about Highlander Folk School, at Cinema Borealis on November 11. And I led a discussion after a 35mm screening of Full Metal Jacket at Facets Multimedia at 11 a.m. on Sunday, November 18. 2012.
On December 19, 2012, in the lobby of the Music Box Theater, documentary filmmaker Steve James interviewed me for a couple of hours about Roger Ebert for his forthcoming feature about Roger, Life Itself.
I taught a three-day lecture course on Charlie Chaplin, concentrating basically on the features, in Belo Horizonte, Brazil (my first trip to that country) from August 16 through 18. That same month, I was interviewed by the Portuguese web site À Pala de Walsh, and an English version of their interview can be accessed here. Mid-December 2012: This interview was just awarded a prize in Lisbon for best interview in the 3rd Annual TCN Blog Awards.
I'm happy to report that, after a few years' absence in both cases, I attended both the Toronto film festival (September 6-16) and the Viennale (October 28 — November 7) in the fall of 2012, the latter as president of the FIPRESCI jury. (We gave our prize to Margaret, and a brief article of mine about it is now on FIPRESCI's web site, along with a briefer account of the festival itself.) At the former, I introduced a screening of a restored version of Ritwik Ghatak's The Cloud-Capped Star on September 10, and I've written some coverage of the latter for Film Comment, both for its web site (posted on November 17) and for the January-February 2013 issue, which also includes my article about Mark Cousins' extended series The Story of Film.
Kevin B. Lee has recently made a short video of me walking and talking about Satantango, commissioned by Sight and Sound, that you can access here. Then, on September 18, 2012, Kevin began to post a roundtable discussion about Sight and Sound's recently ten-best lists that I participated in, along with Nicole Brenez, David Jenkins, and Dan Sallitt. (For a second installment of this, go here.) More recently, I've contributed lists of "five favorite" films of 2012 for their January 2013 issue, and "five favorite DVDs" for their February 2013 issue.
On April 13, 2012, I spoke on a panel about "tastemaking" at the University of Michigan in Ann Arbor.
On April 20, I introduced a 35-millimeter print of Edgar Morin and Jean Rouch's CHRONICLE OF A SUMMER at Northwestern's Block Films and lead a discussion after the screening.
On April 28-29, I attended a conference at the University of Wisconsin-Milwaukee, "World Cinema, Global Networks," and spoke on the second day about "Changing Definitions of Global Film Culture".
***
I attended the UR & VCR Symposium on French Film (March 26-28, 2012), and then stayed on in Richmond, Virginia (where I taught at VCU for two semesters in 2011-2012) to attend the French Film Festival from March 29 through April 1 — the 20th edition of this festival, and, I'm happy to say, the third year in a row that I attended.
A few days later, April 7-9, I returned to Nashville to speak at the Belcourt Theater, this time about Robert Bresson and AU HASARD BALTHAZAR on April 8, and on the following day to Jennifer Fay's students at Vanderbilt.
Towards the end of October, 2011, I gave a couple of lengthy lectures in Brussels (October 27) and Gent (October 28). Videos of my two lectures (as well as an earlier lecture by Adrian Martin and a subsequent lecture by Jacques Rancière, both of them also lengthy) can be accessed here, on the website diagonal thoughts. Included in the first of my lectures is a 45-minute experimental film by Peter Bull (1978) that I "starred" in, The Two-Backed Beast, or The Critic Makes the Film. (Many thanks to Ehsan Khoshbakht for providing the above still from it, on his own web site. For more information about Ehsan's groundbreaking work, go here; and for the opening sequence of The Two-Backed Beast, which runs for just under three minutes, go here.)
In the 80th issue of Trafic, entitled "20 ans, 20 films," tied to its 20th anniversary, I have a new article about A.I. Artificial Intelligence, a film that I presented at Paris's Centre Pompidou on January 12, 2012. (A friend who was present, Elly Eth, taped my introduction, which can be found here.) The same article, in English, appears in the Spring 2012 issue of Film Quarterly. Coincidentally, the Cinémathèque Française was launching a Steven Spielberg retrospective around the same time I was in Paris introducing A.I., and although I had neither the time nor the inclination to attend any of it during my week in Paris — my only visit to the Cinémathèque was to attend a program of mainly recent shorts by Jean-Marie Straub — this coincidence led to Cahiers du Cinéma's Charlotte Garson interviewing me about Spielberg.  This interview isn't mentioned in their table of contents and isn't available online, but it occupies page 19 of their February issue (no. 675).
p
Ten days later, on January 21, 2012, at 7 pm, I presented Anna Karina's rarely screened first feature as a director, Vivre Ensemble/Living Together (1973) [see above still], at Toronto's Lightbox, as part of a series celebrating the Cannes Film Festival's La Semaine de la Critique. Seeing it again for the first time in almost four decades, I found it fascinating — very brave, very personal, and also very, very 1973, in quite illuminating ways.
On January 20, 2012, I also appeared on a panel about film criticism held at the Lightbox, along with local film critics Peter Howell and Liam Lacey and Positif critic Fabien Gaffez, all three fellow participants in the Semaine de la Critique series. This entire event can now be accessed on video, here.
On October 6, 2011, I flew to Bloomington to participate in an extended Pedro Costa event at Indiana University at which Pedro was present. (I was around for two days, about two-thirds of the event.)
At Case Western Reserve University in Cleveland, I gave a couple of lectures on October 3, 2011, at the invitation of Linda Ehrlich  — on Orson Welles (for a class of Linda's), and Warsaw Bridge (at the Cleveland Cinematheque), after screening La Nuit du carrefour for a few people the previous day. Beginning on October 5, back in Chicago, I started teaching a course every Wednesday night at the University of Chicago's Graham School of Liberal and Professional Studies, World Cinema of the 1940s, that lasted for eight consecutive weeks, starting with Christmas in July and ending with Spring in a Small Town.
I was president of the Kuxta/New Directors Award Jury at the San Sebastian International Film Festival (September 16-24, 2011), and you can probably get a good idea of how much my cojurors (Lucía Casani, Jessica Hausner, Paz Lázaro, and Un-Seong Yoo) and I enjoyed the experience from the above photo, taken at the closing-night party. (For a 16-minute interview with me taped at the festival, go here; for another interview, just under five minutes, go here.) I also wrote a long piece about Jacques Demy for the retrospective catalogue at that festival.
I was interviewed about my most recent book for a Santa Barbara FM radio station. The interview was broadcast on Sunday, February 20, 2011, at 1 pm Santa Barbara time, and I believe one can access the program here….More recently, Michael Guillen interviewed me for his blog, The Evening Class, as part of his ongoing project, "The Disposable and the Discontinuous: Bay Area Film Culture in Transition". A  longer and more general version of the interview has just [in August 2011] appeared in Film International, vol. 9, no. 3, pp. 84-93.
Between February 24 and March 3, 2011, I served  as president of the International Feature Film Competition Jury of a new film festival in Mexico City, FICUNAM (The National Autonomous University of Mexico International Film Festival). At the same event, I participated on a panel devoted to Rafi Pitts' new Iranian feature, The Hunter, which I just wrote about for the Spring 2011 issue of Cinema Scope (see above).
Just after my return from Mexico, on March 5, I served on another panel, about film criticism, held at Washington's National Gallery, along with Geary Peary and David Sterritt and Geary's documentary about American film criticism, For the Love of Movies. One can listen to a podcast of this this event here.
On April 22 and 23, I attended a very enjoyable conference given at Northwestern University's Block Museum in Evanston, "Illuminating the Shadows: Film Criticism in Focus," where I participated in two panels and presented Allan Sekula and Noël Burch's film The Forgotten Space to an appreciative audience on the second day — a film I've recently written about for Moving Image Source. (A Spanish translation of a slightly edited version of this article has also appeared in a booklet about the film.) All the panels at the conference, incidentally, can be accessed here.
On May  at 5 pm, I appeared on a Filming Architecture panel at the Gene Siskel Film Center in Chicago. On May 30, I spoke about Double Indemnity (both the novel and the film) at the Lightbox in Toronto.
I taught film at the art history department at Virginia Commonwealth University in Richmond during the fall 2010 and spring 2011 semesters. During fall semester, I taught a film theory and film criticism course for undergraduates and a film criticism workshop for graduate students; in the spring I taught World Cinema of the 1950s and World Cinema of the 1960s. On April 9, 2011 at 10:30 am, at the James River Film Festival in Richmond, I presented a free screening of Francoise Romand's Mix-up, one of my favorite documentaries, to a very appreciative audience, and we had a good discussion about it afterwards.
On January 14, 2011 at 7 PM, at the University of Chicago's Doc Films, Nathan Rabin and I introduced a screening of Elaine May's Ishtar and then discussed the film afterwards, an event organized by the Seminary Co-op Bookstore in relation to our respective books, My Year of Flops and Goodbye Cinema, Hello Cinephilia.
Among my other trips over the past couple of years have been one to the Smithsonian in Washington, D.C. to appear on a panel after a screening of Hai Ninh's lovely 1974 The Little Girl of Hanoi (a film so scarce that I can't find a still on the Internet), one to Toronto (to speak on another panel, this one about my new book, at York University, and also attend a graduate seminar there, on October 6 and 7, 2010), one to Vienna (October 23-29) to attend the Viennale, and short visits to the tail end of the Savannah Film Festival (November 5-6), to speak about film criticism, and to the St. Louis International Film Festival (November 12-15), to head the jury for their New Filmmakers Forum.
With the help, initiative, and encouragement of my new colleagues Victoria Holly Frances Scott and Eric Han, I  cofounded the Tih Minh Ciné-Club, an "informal group which meets every Wednesday at 8:00 pm in The Cinema Studio, Room 520 on the 5th floor of the Pollak Building, 325 N Harrison Street, Virginia Commonwealth University, Richmond VA." The first official program, on September 15, 2010, was Gertrud; others since then included Casa de Lava, Welcome, Mr. Marshall!, the uncensored version of Baby Face, Mr. Zhao, Paper Soldier, Johnny Guitar, A King in New York, A Tale of the Wind, Stars in My Crown, The Silence Before Bach, and Foolish Wives.
On the weekend of March 11-13, 2011, I was in Nashville speaking at a series of films about the South, specifically The Phenix City Story. And the same week, I did the cover story for the Nashville Scene about the series as a whole.
On July 22-25, 2010, I attended a very exciting and energetic Critics' Week in Córdoba (Argentina), where, thanks to the help of my interpreters, I managed to participate in all the discussions despite my almost nonexistent Spanish. Below are (a) a photograph of Roger interviewing me for his local TV show, taken by Flavia de la Fuente, who has given very detailed and profusely illustrated daily reports of the weekend (in Spanish) here, at her and Quintín's blog, and (b) a photo by Ciruja Di Pietro of my two-day seminar, where I'm flanked by my tireless interpreters, Quintín and Diego Lerer (go here for Diego's own blog and account of the weekend, again in Spanish), who worked in relay. (At Quintín's preceding two-day seminar, Roger and Diego also furnished me with a sentence-by-sentence rundown of virtually everything that was being said — a remarkable feat.) Gonzolo Maza from Chile, who had also planned to join us, regrettably had to cancel for personal reasons at the last moment.
On July 10, at a screening of Fahrenheit 451 held at Chicago's Gene Siskel Film Center sponsored by Stop Smiling, Sam Weller and I conducted a brief but very enjoyable live interview with Ray Bradbury via Skype.
***
For my month-long series at the Austrian Film Museum in Fall 2009, "The Unquiet American: Transgressive Comedies from the U.S.," which was also a sidebar at the Viennale later the same month, I held a press conference and spoke at some of the first programs in the series on October 5-9. I'm sorry that my teaching schedule in Scotland (see below) precluded attending the Viennale, but at least I was around to help launch the series beforehand. I prepared a book-length (184-page) bilingual catalogue for this retrospective, all of it written by me, with reprinted articles and capsules as well as new material, which is now available from both the Film Museum and the Viennale. (It can also be ordered from German Amazon here for about 20 Euros plus postage — a rather steep price, although this is a handsome, coffee-table-size volume.) And if you speak German and want to access an Austrian TV report about this retrospective, including an interview with me, you can do so here. (Richard Porton, one of the editors at Cineaste, was kind enough to cite this catalogue in Moving Image Source's end-of-the-year feature.)
Along with a few other friends of the late Filippino film critic Alexis Tioseco, I was interviewed about him for Singapore radio, on a segment that was broadcast on October 11, 2009.
After less than a week of R & R back in Chicago, I flew back to Europe again to teach at the Centre for Film Studies at the University of St Andrews in Scotland, from October 19 through November 7, 2009. Apart from half a dozen classes I taught and/or lectures I gave there (see photos above, the second with Dina Iordinova, the director of their Film Studies program), I also gave lectures at the University of Kent in Canterbury on October 29 and at the University of Glasgow on November 4.
On December 1, 2009, I gave a lecture at Virginia Commonwealth University in Richmond similar to the ones I gave in the U.K. in St. Andrews, Canterbury, and Glasgow, and one I gave on the following day at Chicago's Newberry Library.
On January 18-24, 2010, I attended the Tromsø International Film Festival, the largest film festival in Norway, where I introduced Peter von Bagh's Helsinki, Forever (a film I selected), spoke about Orson Welles and on a panel about film festivals, and also spoke about film criticism to a gathering of Norwegian film critics.
In Norway, I was briefly interviewed by Maria Kuvshinova for her Russian web site open space; here's the link to the interview that she sent to me.
For those who read French and might be interested, I was interviewed by the French weekly Les Inrockuptibles (also known as Les Inrocks) in 1997, and this interview is available here.
When I was still working at the Chicago Reader, I was interviewed for Citizen 3.0, a feature-length documentary about "copyright, creativity, and contemporary culture" by Leigh and Jason Moorfoot that can be accessed here.
I'm proud to be featured, along with many others, in the cast of a A Woman Apart, a documentary in progress by Larry Kamerman about my friend Jackie Raynal, a trailer for which can be seen here.
About a week before the fateful stolen election in Iran in June 2009, some film students in Tehran asked if they could interview me in Chicago via Skype, and here is a Tehran-based image of our encounter. Seated at my left is Mehrnaz Saeed-Vafa, who was translating.